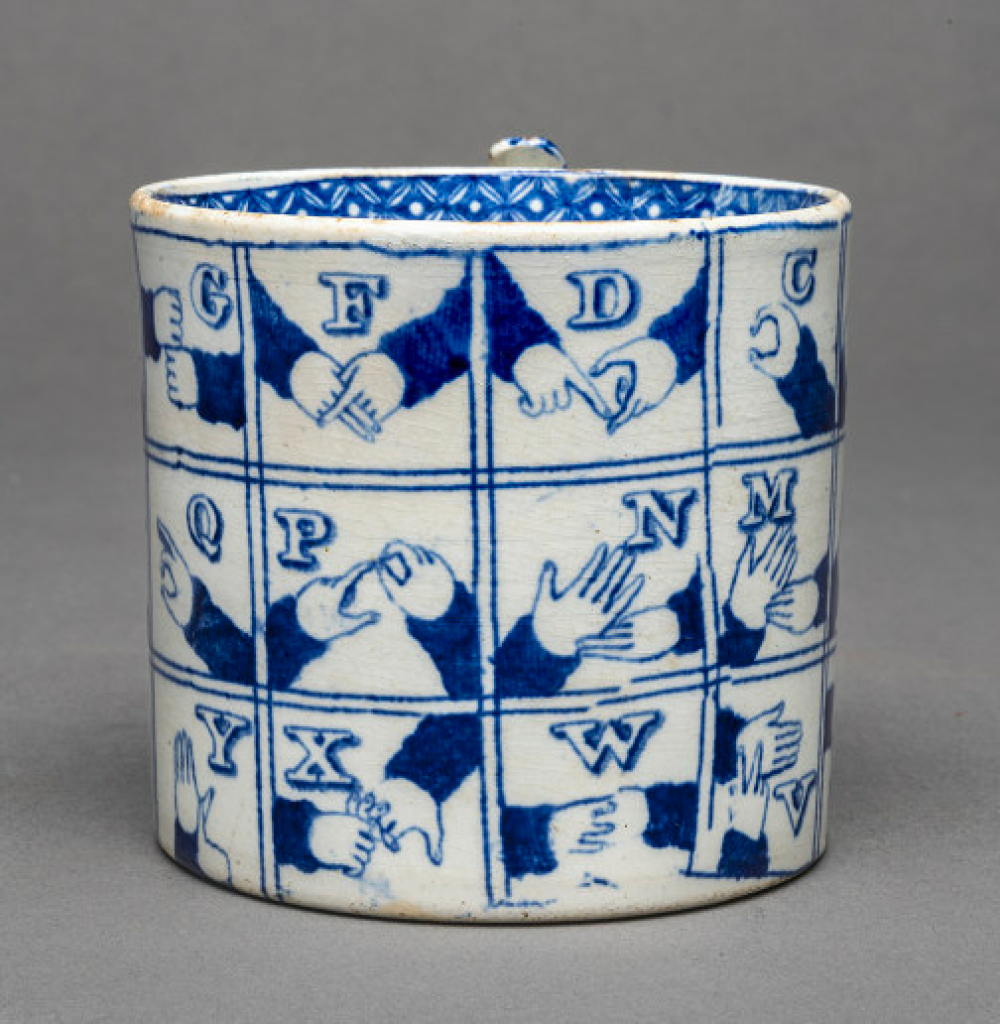 Child's mug displaying British sign language alphabet 
Probably Staffordshire, England; 1800–25  
Lead-glazed earthenware (pearlware) 
Museum purchase with funds provided by the estate of Doris and Stanley Tananbaum 2020.0013  
As the field of disability studies continues to grow, Winterthur strives to acquire related objects. This printed mug from the early 1800s displays a British sign-language alphabet, the origins of which may date as early as the sixteenth century. British signing alphabets differ markedly from American ones, which are said to have their origins in the early 1800s.   
America is actually home to at least two different versions of sign language: American Sign Language (ASL) and Black American Sign Language (BASL). The latter variation also developed in America in the 1800s in part because of segregated schools. The Black Lives Matter movement has brought visibility to BASL, and the two languages remain distinct.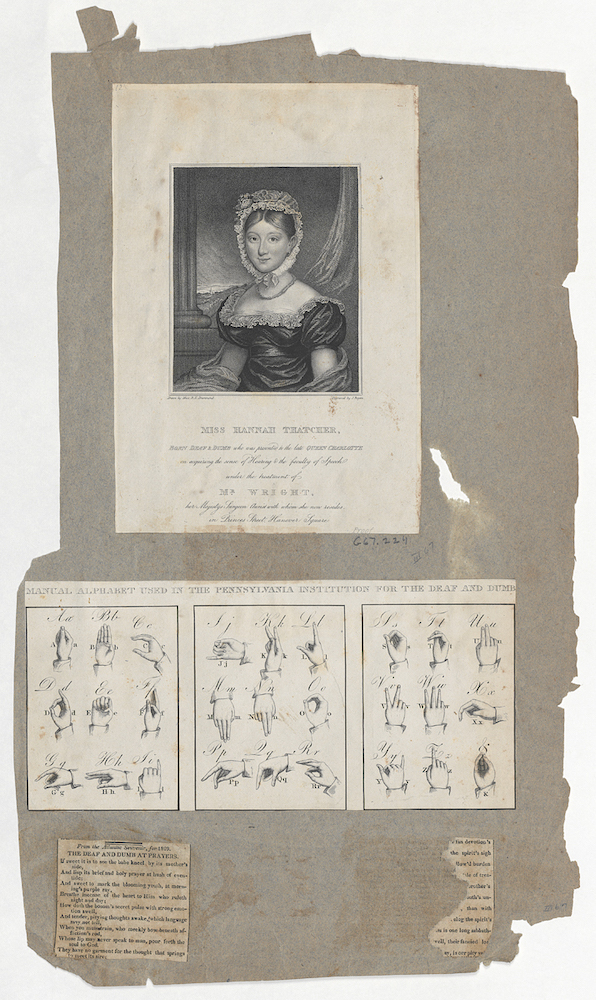 Miss Hannah Thatcher  
Engraved by John Rogers, based on a drawing by Rose E. Drummond  
England; 1815–31   
Ink on wove paper  
Gift of Mrs. Robert W. Trump 1967.0224  
Reproduced here is a group of clippings that was assembled by an unknown source. The American sign language alphabet is illustrated in the "MANUAL ALPHABET USED IN THE PENNSYLVANIA INSTITUTION FOR THE DEAF AND DUMB," an institution now called the Pennsylvania School for the Deaf. The third oldest school of its kind in the United States, it was founded in 1821 by David G. Sexias with financial assistance provided by the state of Pennsylvania. This clipping was pasted on a scrapbook page along with a print of "MISS HANNAH THATCHER, / BORN DEAF & DUMB who was presented to the late QUEEN CHARLOTTE / on acquiring the sense of Hearing & the faculty of Speech / under the treatment of / M.\R WRIGHT . . ." and a newspaper article titled "THE DEAF AND DUMB AT PRAYERS." which appeared in the Atlantic Souvenir in 1829.