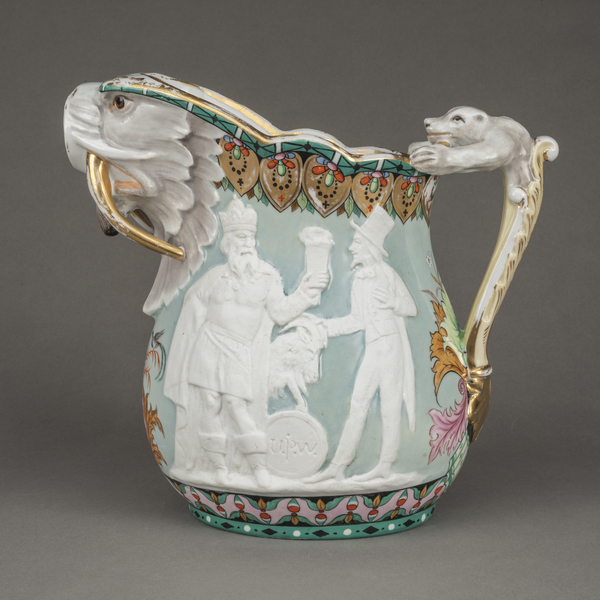 Pitcher
Truthful James and the Heathen Chinee; King Gambrinus and Brother Jonathan
Designed by Karl L. H. Mueller (1820–1887), inspired by a poem by Bret Harte (1836–1902)
Union Porcelain Works, Greenpoint, New York; 1876–80
Porcelain (hard paste)
Gift of Emma and Jay Lewis 2020.0008 
This pitcher by Karl Müeller tells a multifaceted story about nineteenth-century American culture. The top photo of the pitcher tells a difficult story. Depicted is the final scene of "Plain Language from Truthful James," an 1870 poem by Bret Harte. Here, Bill Nye lunges at Ah Sin just before the outsmarted Nye loses their game. As Ah Sin falls, cards from his sleeve reveal that he, like Nye, had been cheating the entire time. Harte had written this poem to counteract animosity toward Chinese immigrants. However, anti-Chinese supporters used the poem to fuel their cause, foreshadowing the Page Act of 1875 and Chinese Exclusion Act of 1882. See below for a print by Currier & Ives inspired by the poem.   
On the other side of the pitcher, King Gambrinus (a mythical Germanic king of beer, see photo below) gives beer to Brother Jonathan, a prototype of Uncle Sam. In terms of ceramics, this scene appears only on this jug model, but statues of King Gambrinus were popular outside of nineteenth-century breweries. 
The polar bear handle and walrus spout speak to U.S. expansion into the Pacific Northwest. The circular spout is a patent by Thomas C. Smith to keep ice inside as drinks were poured.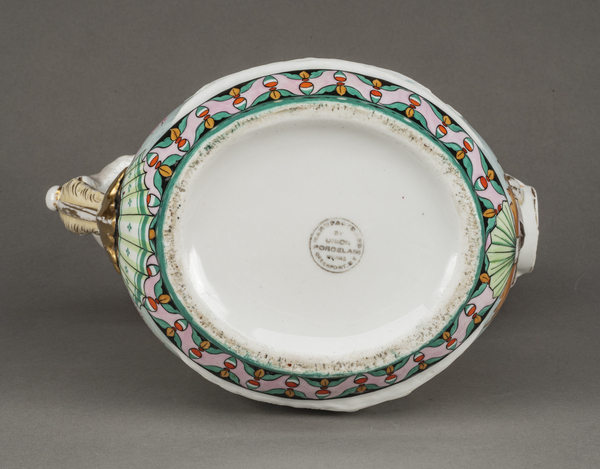 The "Heathen Chinee"
Currier & Ives
Published by Currier & Ives, New York; 1871
Hand-colored lithograph
Library of Congress
---
This object was interpreted by Abi Lua, Winterthur Program in American Material Culture, 2023.