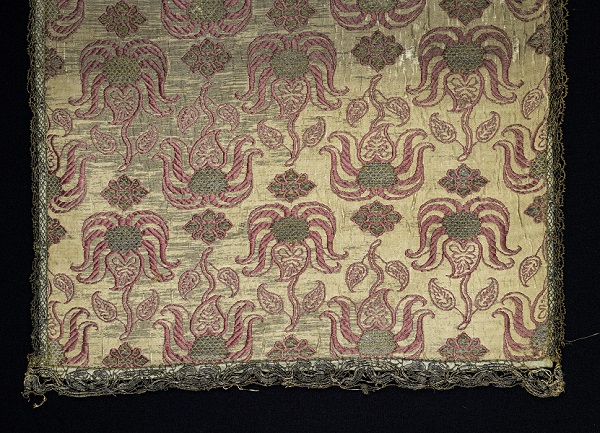 Woven textile
Europe; 1575–1650
Silk
Bequest of Henry Francis du Pont 1969.1689  
This textile may have been an altar cloth, wall covering, or curtain for a bed, but how it was used is not clear. While once covered in thin ribbons of silver-colored metal, it now appears tarnished and shows signs of loss. The pink silk flowers are brocaded at the center with silver gilt-wrapped silk thread. Gilded silk lace edges the entire piece.   
This textile demonstrates the global nature of materials in the sixteenth century. The silver used to make the threads and lace was probably mined by enslaved indigenous workers in Peru or Mexico. The silk may have been produced in China, Greece, Syria, Spain, Iran, Turkey, or India, and the textile was probably woven in Italy, France, or Turkey.