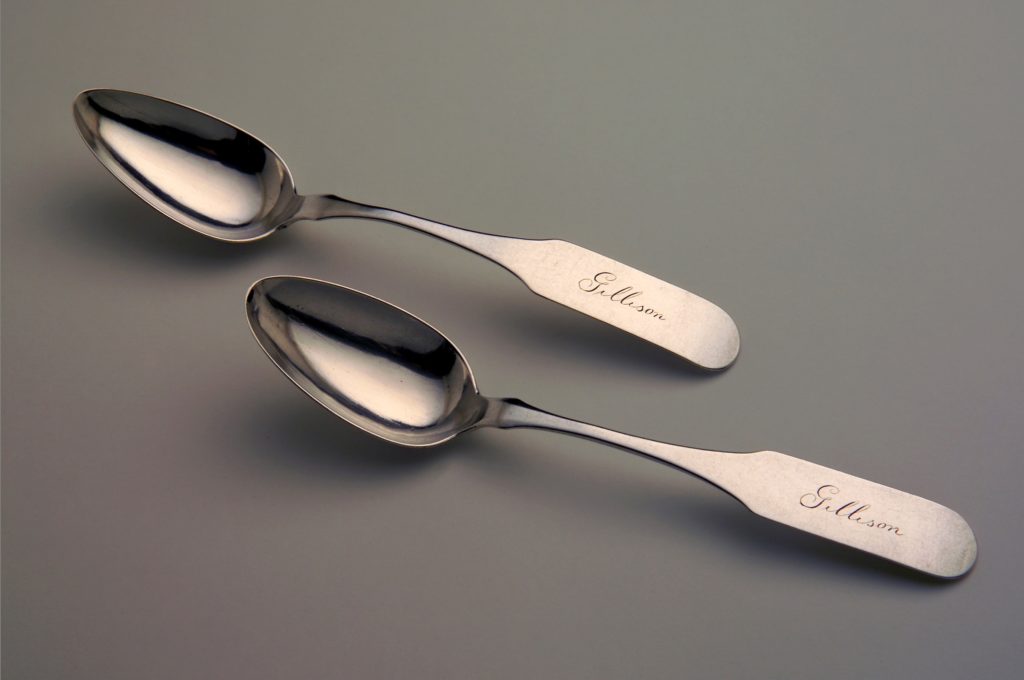 Spoons  
Peter Bentzon (ca. 1783–after 1850) 
Philadelphia, Pennsylvania; 1817–29 
Silver  
Museum purchase with funds provided by Dr. Richard C. Weiss and Dr. Sandra R. Harmon-Weiss 2003.0051.001, .002  
Born in St. Thomas to a Danish or Norwegian father and an Afro-Caribbean mother, Peter Bentzon traveled to Philadelphia in 1781 for his education and an apprenticeship with a local (unknown) silversmith. Between 1806 and 1848, Bentzon spent time residing in both Philadelphia and St. Croix, where he married his wife. They were a religiously mixed household, blending Lutheran/Anglican and Catholic faiths. While the family was known to be of African ancestry in St. Croix, it is possible that they "passed" as white in Philadelphia. The family's departures to and from St. Croix may have been related to the race relations at the moment.  
Bentzon's career reflects his multicultural and multinational background. He supported the family by making jewelry and silver, but much of his work in Philadelphia may have been in the business of repair and in importing goods like sugar, yams, and tamarinds through his trade contacts in the Caribbean. There is more to be discovered about Bentzon's life and work in Philadelphia, including why the family disappears from records in 1850.